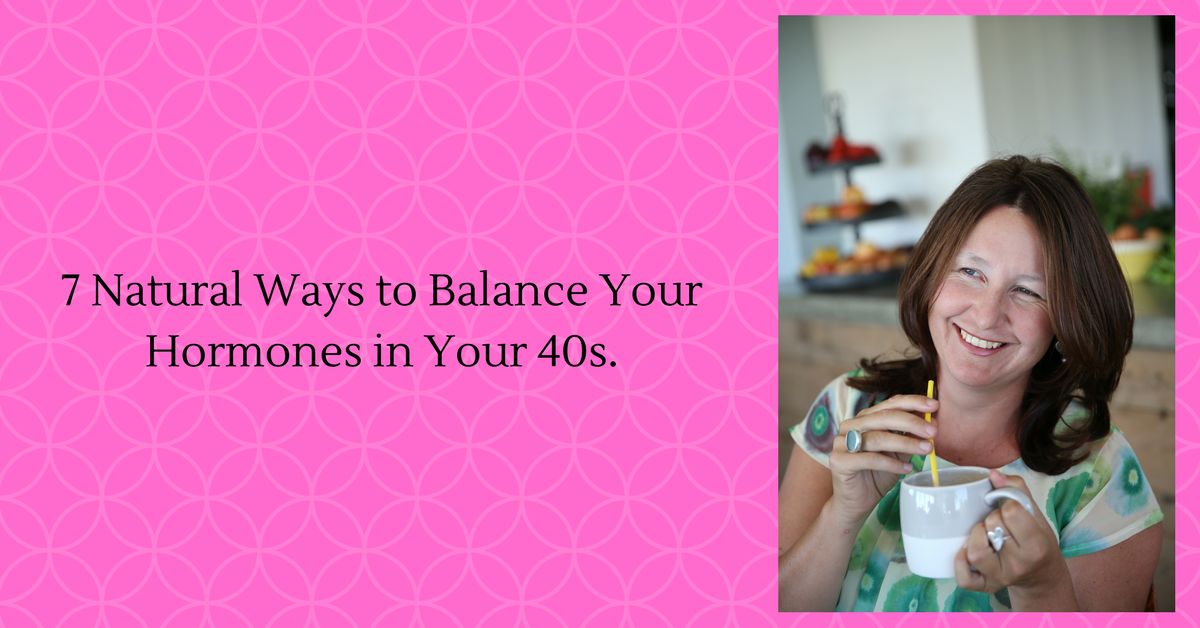 So today I am going to talk about Hormones.  But first, I'd like you to meet Elle.  Elle is a delightful 46 year old woman I had the pleasure of working with this year.  She is the mother of 2 boys and is married to her husband Andrew.  Andrew is an electrician.  He has a successful business based on the Mornington Peninsula and South East Melbourne.  Elle does the books and manages admin for the business.
She is passionate about her family and adores her boys.  Her priorities in life are:
Her children
Health and personal development
The environment
Nothing is more important to Elle than that she feels well. This is to enable her to have the capacity to do everything she needs to do to keep things running smoothly at home and in the business.  She also dreams about other things she might like to do or achieve in life.  Like traveling, supporting her community and social justice.  She even dreams about starting her own online business one day.  She feels she has an inner well of potential that is waiting to be tapped.  But she knows she has not fulfilled her true potential yet and dreams about what this might be.
When I met Elle, her health was really holding her back.
To be honest, she felt like she never really recovered from having her two boys – never completely got her energy and well-being back.  And over the last few years, her PMS symptoms and period problems seemed to be getting worse too.  Elle had been having very heavy periods with pain and big clots.  She also noticed mood swings affecting her, especially in the premenstrual phase.  She had a short fuse and was much more irritable with her husband and kids than she used to be.
This was really starting to have an impact on her relationship and enjoyment of parenting.  Her libido was rock bottom and she didn't look forward to making love with her husband anymore –in fact she actively avoided it!  Elle couldn't think clearly and her short term memory was suffering.  Her brain felt so foggy. She was bloated and finding that her cycle was now really affecting her gut.  She was often constipated before her period and had diarrhoea during her period.
How Did This Make Her Feel?
Sadly, she got to the point where she was really only having one good week each month. One week when she felt even keeled emotionally and was able to enjoy life.  The rest of the time she was either suffering with PMS or had her period.  Most of the time, Elle felt exhausted and overwhelmed.  She felt like her life was starting to spin out of control.  Elle was worried that this was the beginning of peri-menopause. That things were going to get worse if she didn't get help to balance her hormones.  She was terrified that if she didn't do something about her health, menopause was going to be a living hell.
Elle was desperate to make a change in her life and start to get her health back in balance.  She is aware that she has prioritised the kids and family life over her health in the past few years.  But she knew this HAD to change.  And she had her husband's full support to do this.  He knows that if she is well it will have a huge impact on the whole family.
First, Elle went to see her GP who suggested anti-depressants to balance her mood and the pill to help her menstrual symptoms.  Elle felt frustrated that this is the only advice she received – SURELY there must be a better way.
This is when I met Elle.
Elle was desperate to get off the physical and emotional rollercoaster of PMS, period problems and peri-menopause.  She felt out of control and needed help fast!  And she wanted to balance her hormones naturally.  Elle loves natural health, nature and taking care of the environment.  She was looking for a natural solution to her problems.
Elle was relieved to find out that I have helped many women with similar symptoms and frustrations.  Although she was skeptical at first; she was also a little bit excited when I told her that most of these women felt normal again after treatment and have continued to experience better health than ever.  Vibrant health, radiant well-being, freedom, resilience, confidence, energy, mental clarity, emotional balance and better relationships are some of the changes women have described.   But in the beginning, most women (including Elle) tell me: "I just want to feel like myself again".
Elle was also happy to find out that the treatment method I would be guiding her through was simple. A step-by-step approach that had proven over and over again to be effective for naturally balancing hormones for women in their 40s and 50s.  This treatment method is called The Hormone Breakthrough Method.  Through following this method, thousands of women have successfully eased their transition through peri-menopause and menopause and got their life back.
Click Here to Get Your Free Checklist  "The Hormone Breakthrough Method Blue Print"
Step 1. Start Charting Your Symptoms with the Menstrual Symptom Diary
The first thing I asked Elle to do was to begin to chart her symptoms using the menstrual symptom diary.  Now you might ask…how is this step a natural way to balance my hormones? Shouldn't the first step be to take a supplement or eat a special food?   How is this going to help?  I need to tell you, this step is so important.  It is normal to want to rush into the more active strategies to balance your hormones – what herbs to take, what foods to eat, what to avoid.  Don't worry.  We are going to cover all this and more in the next following steps.  But without knowing where you are now, how can you tell which of the changes you make are helping you feel better?
Symptom diaries measure your response to herbal/nutritional supplements or lifestyle and dietary changes.  Start charting your symptoms now and you will be able to track your improvements.  It will also help you identify patterns in symptoms that you may not have previously been aware of.  If you need extra support from a practitioner or naturopath, you will be able to take in a copy of your symptom diary which will give the practitioner valuable information in developing a treatment plan for you.
Do you have a regular menstrual cycle?
Click Here to download the menstrual symptom diary.  Fill in the chart each day by placing a x against any symptom box that you experience on that day.  Day 1 is the first day of your period.  Always start a new chart on the first day of each period.  If you are mid-cycle when you start charting, just begin crossing symptoms on the day of the cycle that you think you might be on.  For example if you are pretty sure your last period started 2 weeks ago…being marking the chart on day 14.  Make sure you also write the date underneath the day of the cycle.
What if you do not have a period anymore?
Or it has been some months since your last period?  Start charting your symptoms using the menstrual symptom diary anyway.  Start marking today's symptoms on Day 1 of the chart.  I still want you begin a new chart every 28 days.  This will help you identify any cyclical symptoms or patterns that you might be experiencing even if you are not getting a period.  Some of the symptoms won't apply to you (for example how many pads or tampons you are using).  However most of the symptoms apply to any woman who is experiencing a hormonal imbalance – even if she does not have a regular period.
If you have a symptom you want to monitor that is not on the chart, just add it to one of the blank rows.
Step 2. Identify Your Hormonal Profile through Testing
There is no one-size-fits-all approach to treatment.  You need to determine your unique hormonal blueprint. Then you can individualise the Hormone Breakthrough Method and get the best results. You need to discover not only how much your body is producing of each hormone but also what the ratio is between the hormones. This will help you be very specific in choosing the best herbs, nutrients and lifestyle changes that are going to get your body back in balance. Your symptoms might be the same as many other women in their 40s, but your hormonal profile and the treatment you need may be very different.  A combination of saliva hormone testing, and blood work can help.
Saliva Hormone Test
Now we get technical.  Saliva hormone testing is able to pick up even very slight imbalances that can cause aggravating symptoms.  Hormones including testosterone, progesterone, estrogen (E1, E2 and E3), our stress hormones (cortisol and DHEA) and our sleep hormone (melatonin) can be measured this way.  Saliva is an excellent way to measure these hormones as it reflects the biologically active component of hormones in your body.  This contrasts with blood samples, which measure the total levels of hormones in the bloodstream.
The timing of the collection of a saliva sample can be easily controlled.  The day and time you need to collect your saliva sample varies from woman to woman. If you have a regular menstrual cycle, it is best to collect your saliva sample on Day 18 of the cycle.  (Remember that Day 1 of your cycle is the first day of your last period).
Blood Test
Some hormones must be checked through a blood test.  If you want to investigate your thyroid hormones, you will need a blood test. Through a blood test you can find out if your thyroid is underactive or overactive. You can also find out whether you have an autoimmune condition that may be affecting your thyroid function.
Thyroid stimulating hormone (TSH) is the most common thyroid hormone checked through blood work.  But this is not the only thyroid hormone and it is important to avoid relying only on this test to assess thyroid function. It is preferable to also test the other thyroid hormones (FT3, FT4, and reverse T3) as well as the thyroid auto-antibodies to get the true picture of how your thyroid is working.  This will give you the best chance of identifying any imbalances in your thyroid hormone production. It's these imbalances that may be disrupting the rest of your hormones and causing fatigue, weight gain, period problems, mood changes or brain fog.
If your goal is to balance your hormones naturally, you must know which dietary changes and natural medications target your unique hormonal profile.
It is also possible that your symptoms may not be caused by a hormonal imbalance.  If complete hormone testing identifies that your hormonal profile is optimal, it is important that you seek further information and guidance from your healthcare practitioner to find out what is causing your symptoms. We have the skills and knowledge necessary to interpret your test results and get you on the path to improvement quickly and safely.  Working together as a team gives you the best chance to optimise your health and balance your hormones.
Step 3. Use Food as Medicine to Optimise Nutrition
The main question I get asked is "So…is it my hormones?" This is closely followed by questions about food and hormones. Such as "what foods affect what hormones?", "How can I use whole foods to balance my hormones?" and "Are there any foods I need to avoid or eat more of?"
It seems we are all very interested in the healing power of foods and how we can use food as medicine to improve our health. This has been a topic of research and communication in healthcare and medicine from time immemorial. Hippocrates (460-370 BC) a physician from Ancient Greece who is still considered one of the most outstanding figures in the history of medicine said it best:  "Let your food be your medicine and your medicine be your food."
Confused About Food?
The confusing thing for most of us about food and health is that dietary recommendations seem to change all the time. As science evolves, so does the advice we receive. Do you remember when fat was evil in the eighties and a low fat diet was all the rage?  Marshmallows are still advertised as 99% fat free (even though they are mostly sugar and food additives). Healthy fat is essential for healthy hormones. How many women still follow a low fat diet in an effort to maintain their figure?  And what impact could this be having on their hormones and reproductive health?
Another popular approach to healthy eating in more recent times is the low carb diet. But without consuming enough carbohydrate-rich wholefoods, we run the risk of missing out on essential B vitamins and fibre not to mention flavour and enjoyment! This can have a significant impact on our gut and our mood.  In contrast to the no grain diet I am waiting for the popular explosion of the artisan bread diet.  There are some amazing artisan bread makers out there who are making incredibly nutritious and easily digested breads from traditional sourdough starters and ancient grains like spelt and buckwheat.
The key approach when making changes to your diet to improve your health…
Simply, its use common sense and listen to your body.  We are all different and foods that are beneficial for you may aggravate your best friend's symptoms. However it is helpful to tailor your approach to eating with a good understanding of the properties of influential foods.
Keep in mind….
It is not the exclusion or inclusion of one individual food that is going to make the difference to your hormones. Nor do you need to follow a strict approach to healthy eating all of the time in order to enjoy the healing power of food.   Aim to be practical and realistic with any changes you make to your eating style and work towards "fine tuning" what you are currently eating rather than overhauling your entire diet.
Nutritional deficiencies can contribute significantly to a hormonal imbalance.  The key nutrients that support hormonal regulation are B vitamins, iron, magnesium, zinc and essential fatty acids. The inclusion of foods containing phytonutrients, anti-oxidants, cholesterol and protein are also very important for regulating hormonal balance naturally.
Nine Nutrition Tips for Healthy Hormones
Fresh is Best
Choose fresh, wholefoods as much as possible. Avoiding processed/pre-packaged foods will help to support your nutritional intake and reduce your exposure to food additives and xenoestrogens. Choosing certified organic foods will also help to minimise your exposure to pesticides and other chemicals used in food production.  When going organic, prioritise foods that are higher up the food chain. Animal foods like butter, meats and dairy contain saturated fat in which pesticides and herbicides become concentrated. Try to make sure these are certified organic and grass fed.  Coconut oil/butter and milk are also high in saturated fats and should be certified organic.
Support Your Digestion to Get More out of Your Food
It's important to have healthy eating behaviours that support your digestion to maximise the absorption of nutrients from your food. Drinking large amounts of fluids with meals can dilute valuable digestive enzymes. Try to drink most of your liquids between meals.  Avoid coffee, tea and red wine with meals. The tannins they contain put a coating on your gut that reduces your absorption of minerals like iron and zinc.    Ensure you chew your food thoroughly. The more work your teeth do, the less work your digestive system has to cope with.  Also practice mindful eating. Therefore when you are eating, try to focus on eating with all your senses. Notice the smell, the taste, the textures, and the appearance of your food.  Avoid multitasking, eating on the run or whilst at your desk. Valuable energy and blood will be supporting your brain and muscles, not your digestion!
Include Protein-Rich Foods in Each Meal or Snack
To maintain healthy blood glucose levels and have more consistent energy, it is helpful to eat a protein-rich food with each meal or snack. This will ensure adequate protein intake, supporting your metabolism and avoiding ravenous hunger. Organic, free-range poultry and eggs, lean cuts, grass-fed meats and non-farmed fish choices are best. Good vegetarian protein sources include legumes (e.g. chickpeas, lentils, kidney beans and nuts/seeds). Clean protein sources and healthy fats are the most important macronutrients for healthy hormones (especially progesterone).
Enjoy Five Servings of Vegetables Daily
Vegetables are very high in nutrients and beneficial dietary fibre. Green leafy vegetables are particularly beneficial for women who have a hormonal imbalance. Aim for around 25-30% of your total food intake to be green leafy vegetables.  Regular vegetable consumption may also reduce your risk of developing chronic diseases including heart disease and cancer (due to the numerous phytonutrients present in all vegetables). Phytonutrients are additional antioxidants found in plants as distinct from vitamins and minerals, which are associated with numerous health-promoting effects. Highly coloured vegetables (e.g. beetroot, sweet potato, carrot, pumpkin and green vegetables) tend to be highest in phytonutrients and anti-oxidants.
Enjoy Two Pieces of Fresh Fruit Daily
Fruits are high in nutrients and fibre. Similar to vegetables, regular fruit consumption may also reduce the risk of developing many types of chronic disease due to the presence of phytonutrients. Highly coloured fruits tend to be highest in phytonutrients. For best results choose low fructose fruits like kiwi fruit or berries. This will help to reduce blood glucose fluctuations and any irritable bowel symptoms. Dried fruits and fruit juices are very high in concentrated sugars and sulphite preservatives. It is best to keep them at a minimum.
Include Wholegrain Carbohydrate Foods Each Day
Low GL carbohydrates and wholegrains are an important part of eating for healthy hormones. Wholegrains are an excellent source of fibre and B vitamins in our diet and can assist in energy production and intestinal health. They help satisfy hunger, provide energy and endurance, calm the nervous system and encourage deep sleep. They promote elimination via the bowel, and aid memory and clear thinking. The body is unable to digest wholegrains as quickly as refined carbohydrates, enabling blood sugar and insulin to remain constant and preventing the rapid rise and fall of blood sugar.  Choose gluten-free grains if you are concerned about your thyroid, are gluten sensitive or have Coeliac Disease.  The best wholegrains to consider including are:
Grainy sourdough spelt bread, essene bread, wholegrain crackers, oats, spelt pasta or buckwheat noodles.
Brown rice, basmati rice, barley, quinoa, buckwheat, amaranth, millet.
Lentils, beans, chickpeas, etc.
Include around Two Tablespoons of Healthy Fats Daily
"Good fats" from foods such as fish, nuts, seeds and cold pressed vegetable oils are an important part of a healthy diet. These dietary fats will reduce inflammation in your body, calm your nervous system and support your brain health/cognitive function. They ensure that your body has the building blocks necessary for the production of hormones. Remember that for healthy hormones you also need some cholesterol found in foods that contain saturated fat. Hormones are produced using fatty acids, cholesterol and protein, so if we're missing these nutrients, hormonal imbalances can arise simply because the body does not have the nutrients it needs to make them.

If you are cooking at a moderate to high temperature, you will need to use a saturated fat like certified organic butter or certified organic coconut butter. Olive oil and other unsaturated fats oxidise quickly at high temperatures which can lead to the production of free radicals in our bodies.
Always choose oils that are cold pressed and extra virgin where available. Flax seed oil, olive oil, walnut oil and sesame oil are good choices.
8.  Include a Handful of Nuts and Seeds Everyday
Nuts and seeds are a nutritious, healthy vegetarian food source, high in protein, essential fatty acids and fat-soluble vitamins. Keep in mind that nuts and seeds are also energy dense so it's best not to over consume.  Pepitas are an excellent source of zinc, almonds are a great source of calcium and Brazil contribute extra selenium to your diet.
Drink a Minimum of Eight Glasses of Water Daily
Our body is at least 50% water. Water helps carry nutrients to our tissues and remove metabolic wastes. Maintaining hydration gives our brains and bodies the best chance of functioning optimally.  If you want to think clearly, improve your short-term memory/cognitive function and get rid of brain fog, hydration is essential.  Aim for a minimum of eight glasses or two litres of filtered, boiled or bottled water daily.
Step 4. Gut Repair and Detoxification
Our hormones are detoxified and metabolised through a pathway in the liver called the Phase 2 pathway of detoxification. If this pathway is not working efficiently or if your body is very busy detoxifying other chemicals, it can have a significant impact on hormonal regulation. Assessing and restoring optimal functioning of this pathway is very important. After hormones are detoxified in the liver, the metabolites are shunted to the bowel for elimination from the body in the stool.
The healthy bugs that live in our gut help our bodies to not only digest foods and absorb nutrients but also eliminate waste products and these hormonal metabolites from our system. If we don't have enough healthy bugs, waste products and hormones can be reabsorbed from the bowel back into the bloodstream. This perpetuates the cycle of imbalance in our bodies.  It can also have an impact on our immune system. It is important to assess and address any imbalance of the microflora in your gut. Equally it is important to support pathways of detoxification to restore balance to your hormones.
Natural ways to restore healthy gut flora.
Probiotics, fermented foods and bone broth can all help to restore healthy gut flora and balance your hormones naturally.  Experiment with foods like sauerkraut, kombucha or kefir.  Try making your own stock using a whole organic chicken.  You could even ask your local fishmonger to put aside fishheads and skeletons and use these to make delicious fish stock.
The cruciferous vegetables contain a plant chemical called indole 3 carbinol that supports the Phase 2 pathway of detoxification.  Eat more vegetables like broccoli, cauliflour, kale and brocolini to make the most of this super-power plant chemical.  Just make sure you lightly steam or cook these vegetables before eating.  These vegetables are goitrogenic can affect your thyroid function if you eat them raw.
Step 5.  Support Your Body's Stress Response
Sometimes stress is the chicken, sometimes it is the egg.  When we are under stress, our reproductive hormones get out of balance.  When your reproductive hormones are out of balance you feel more stressed.  Through saliva hormone testing, we can find out which stage of the stress response your body is in and whether this could be causing the rest of your hormones to get out of balance.
Stress can have a huge impact on your hormones. Changes in production of stress hormones can put the rest of your hormones out of balance and directly affect reproductive health. Rising cortisol levels which occur during the fight or flight stage of the stress response, can inhibit the release of luteinizing hormone, ovarian estrogen and progesterone.  They can even cause a cessation of the menstrual cycle.  This is called hypothalamic amenorrhoea. It is the reason you can miss periods during times of physical stress (malnutrition, chronic over exercising or even travelling) or emotional stress (anxiety, depression). Stress can also act as the initial trigger that activates autoimmune conditions like Hashimoto's Disease which affect thyroid hormone production.
It's a vicious cycle.
When you feel stressed, it puts your other hormones out of whack. When these hormones get out of balance, you can feel even more stressed, anxious, depressed and fatigued.  Brain fog is a common symptom that occurs in conjunction with hormonal changes. Supporting the body's stress response is a crucial step in improving cognitive function so that you can think clearly again.  Addressing stress is such an important part of balancing your hormones naturally and getting your vitality back. And of course, we all want to feel balanced emotionally so that we can enjoy peace of mind.
A strong link between stress and many peri-menopausal symptoms.
The brain is an important target for stress hormones. So it is not surprising that many of the symptoms women seek help for when they are peri-menopausal are neurological. This includes depression, anxiety, insomnia, poor concentration and hot flushes.  Since hot flushes occur when increasing stress hormones and declining estrogen, testosterone and endorphins collectively act on the hypothalamus to lower the body's temperature thermostat. Registering this lowered set point triggers sudden heat loss via vasodilation and sweating. This is followed by feeling colder than usual, often many times daily. If you want to stop your hot flushes and night sweats, along with soothing irritability and improving mental focus, it is extremely important to support your body's stress response.
Herbal medicine may help rebalance specific types of stress patterns and therefore help to support positive stress management.
Here are some examples of herbal combinations that may enhance your ability to cope with stress:
Herbs such as Eleutherococcus senticosus, Scutellaria lateriflora and Bacopa monniera may work in synergy if you are prone to worrying and withdrawing when stressed. This non-stimulating formula supports emotional resilience in sensitive people. It also encourages relieving anxiety and worry while improving mental clarity and boosting your ability to cope with stress.
Rehmannia glutinosa, Withania somnifera, Avena sativa and Glycyrrhiza glabra have traditionally been used as mental and physical tonics. Furthermore may help if you become lethargic, depressed and mentally or physically exhausted when stressed. This combination may provide you with energy and improved mental function.
Zizyphus, Valeriana officinalis and Passiflora incarnata are herbs traditionally used to relieve symptoms of insomnia, unrest and muscular tension. These herbs are often used if you are anxious, irritable, frustrated and impatient under stress. It may help you if you have a short fuse when you are stressed. If you react to stress in an irate manner and have a fierce temper, this herbal formula may help you sleep more restfully and respond to stress in a calmer manner.
As well as these natural medicines, here are some handy solutions to help you deal with stress.
Top Seven Stress Busters

Take time out
We all need time to ourselves to help our bodies recover from stress.  Hobbies or activities that help you switch off from your worries and be in the present moment are very helpful.  Some people love knitting, others love watching the sunset or playing with their pets.  Do more of what works for you.
Exercise
Many studies suggest that regular exercise can help reduce stress levels.  Vigorous cardiovascular-style exercise that gets you huffing and puffing is key. It will help your body burn up and metabolise stress hormones like cortisol (around twenty minutes most days will have this effect).   Just make sure you don't over exercise.  Excessive exercise is a stressor that can disrupt your hormonal balance.
Relax with Bodywork
Indulge in a massage, reflexology or some other blissful treatment.
You deserve it!   These treatments can help to induce the relaxation response in your body and balance your stress hormone production.
Use Positive Visualisation and Meditation Techniques
Positive visualisation can help to lower your stress response. Think of something that makes you feel stressed and visualise yourself in that situation feeling very calm and able to cope.   Meditation techniques, yoga and breathing techniques can all help to induce the relaxation response in your body.
Counselling
If you have active stress within your life currently, consider counselling to assist you in changing your mindset or dealing with the stressor more effectively.
Aromatherapy
Vaporise some essential oils such as lavender, geranium and chamomile. Not only do they smell great but they can assist with relaxation.
Step 6. Reduce Environmental Triggers
Xenoestrogens are synthetic estrogens from our environment, food chain and chemical products. They can be found in hundreds of products we are exposed to or ingest daily.  Research indicates that our increased exposure to xenoestrogens in the last fifty years has been a significant contributing factor to the rise in hormonal imbalances. Reducing your exposure to xenoestrogens can really help to balance your hormones.
Click here to read more about Xenoestrogens and how you can reduce these environmental triggers.
Step 7.  Wellness For Life
We know there are key times in your life when you are more likely to suffer the effects of a hormonal imbalance.  These are during the transition phases of adolescence, the peri-natal phase (when we are having babies) and peri-menopause.  Whilst these life transitions are a normal, natural aspect of womanhood; you have a lot of options to ease the transition. You have the power to minimise symptoms so that you can feel normal and enjoy life again.
There appears to be genetic involvement in the onset of some hormonal imbalances and reproductive health conditions. Conditions including fibroids, endometrioses, thyroid disorders and polycystic ovarian syndrome.  Our genetic make-up can also affect the way our bodies process and utilise certain nutrients (another reason some women develop nutritional deficiencies that can cause hormonal imbalances).
A wonderful new field of research called epigenetics, which studies the impact of environmental, dietary and lifestyle factors on genetic makeup. And as a result, we now know that just because you are born with a certain set of genes, it is not necessarily your destiny to walk down that path.  You can do a lot to influence the expression of your genes. The information in this article can help you regain control of your genes again.
I guess you want to hear more about Elle?
After following the strategies in the Hormone Breakthrough Method for around 4 months, Elle felt like a new woman! The first change she noticed was calmer feelings.  This happened within the first week of beginning the program and was a welcome sign that Elle was on the right track.  After 2 weeks, Elle noticed her energy levels were starting to pick up.  She felt uplifted and was starting to sleep better.  Then she hit the pre-menstrual phase of her cycle and all her old symptoms recurring with a vengeance.
I explained to Elle that it was normal for this to happen in the first month.  Elle was balancing her hormones across the menstrual cycle and this can take some time.  By the second cycle, her pre-menstrual and menstrual symptoms had reduced by 50%.  On the third cycle Elle noticed an 80% reduction in the severity of her symptoms.
Elle and I spoke again this week as I was preparing to write this article.  She let me know that now the start of her period comes as a bit of a surprise.  Because she is no longer debilitated by PMS she doesn't have those warning signals anymore that her period is coming.  As a result now when it starts, the flow of her period is very manageable.  She feels like she is thriving in life again…not just surviving.
What does this mean?
It is possible to ease your body through the natural transition of peri-menopause by balancing your hormones as early as possible. So don't wait until your health spirals out of control with severe hot flushes, depression or menstrual flooding. Take action NOW to enjoy optimal health, unlock your potential and live a life you love!
Click Here to Get Your Free Checklist and Menstrual Symptom Diary "The Hormone Breakthrough Blueprint"